---
Time to set up your blog…
You can set up your blog, in 12 simple steps. I made this easy guide with sample pictures, to help you get started!
LET'S GET STARTED!
(1.) Click on this link for Bluehost. It will open the link in a new window. You can follow along, by clicking back and forth.
Click on the big GREEN "get started now" button, that looks like the one pictured below.
NOTE: Bluehost will change their picture designs, but the set up process is the same.
---
(2.) CHOOSE YOUR DOMAIN NAME
There are two options here:
New domain option, is for a new site. You check if your domain name is available. Type your domain name in the box. For example: I would type in Vanessa Baked. If that name is available, you can continue and click next. If it's not available, you can choose from the options that bluehost has available. Or, you can try a different name.
I have a domain name option, is if you are transferring an existing domain name.
---
(3.) CHOOSE YOUR PLAN
Click on the "starter" plan, for now. You can upgrade later on, if you need to.
Remember to click on one of my Bluehost links to get the discounted price.
---
(4.) ENTER YOUR ACCOUNT INFORMATION
*Pay attention to the package information. It will automatically have the ACCOUNT PLAN set for 36 months. You can unclick, or de-select the extra stuff. You can always add the extras later. This is important, because, you will be paying for the whole year up front.
---
(5.) CLICK ON THE "CREATE YOUR PASSWORD" BUTTON
---
(6.) MANAGE YOUR PASSWORD – Write it down and keep in a safe place.
---
(7.) LOGIN WITH YOUR NEW PASSWORD
---
(8.) ONCE LOGGED IN, CLICK ON THE HOME BUTTON. Scroll down to the website section, and click on the "Install WordPress" button.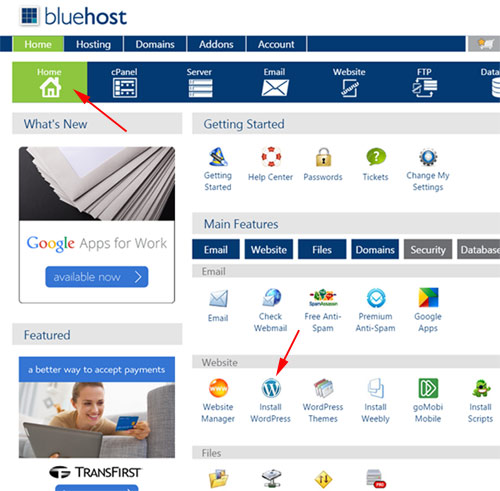 ---
(9.) INSTALL WORDPRESS – Click the Green Install button
---
(10.) CLICK ON THE "GREEN" CHECK DOMAIN BUTTON
---
(11.) ACCEPT THE TERMS AND CONDITIONS – Click the "INSTALL NOW" button.
*Remember to write this information down. Keep in a safe place, you will need it to login to your account.
---
(12.) ALL DONE! Sign into your blog. Your WordPress login page, will look something like the one pictured below.
This is what your login URL will look like –> http://www.yourwebsitedomainname.com/wp-login
---
WHEW… That made me hungry! I could go for a batch of my Nutella Chocolate Chip Cookies! Go bake some today.